Bibimbap-Style Korean-Marinated Flank Steak
Translated to "mixed rice," this traditional dish features stir-fried strips of Flank Steak alongside veggies and brown rice.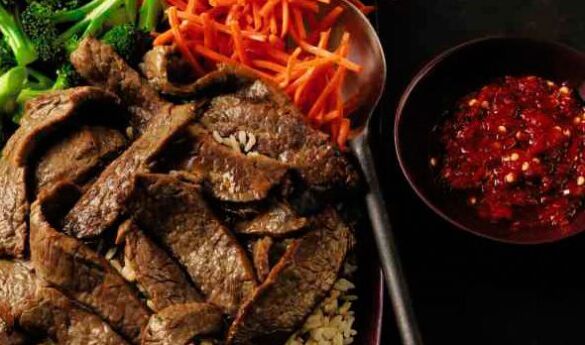 Ingredients
1 pound beef Flank Steak
2 tablespoons minced green onions
2 tablespoons reduced-sodium soy sauce
1 tablespoon packed brown sugar
1 tablespoons sesame oil
2 teaspoons minced garlic
2 teaspoons minced fresh ginger
Hot cooked brown rice
Korean red chili sauce (Gochujang) (optional)
Steamed broccoli florets, sautéed shitake mushrooms, shredded carrots, fresh bean sprouts
30 Minutes
4 Servings
322kcal Calories
28g Protein
Cooking
Cut beef steak lengthwise in half, then crosswise into 1/8 to 1/4-inch thick strips. Combine Marinade ingredients in medium bowl. Add beef; toss to coat. Cover and marinate in refrigerator 30 minutes to 2 hours.
Heat large nonstick skillet over medium-high heat until hot. Remove beef from marinade; discard marinade. Add half of beef to skillet; stir-fry 1 to 2 minutes or until outside surface of beef is no longer pink. (Do not overcook.) Remove from skillet; keep warm. Repeat with remaining beef.
Serve beef over rice and vegetables, as desired. Serve with chili sauce, if desired.
Nutrition
| Serv Size | Calories | Total Fat | Cholesterol | Total Carbs | Protein |
| --- | --- | --- | --- | --- | --- |
| 4 | 322kcal | 9g | 66mg | 31g | 28g |
* The % Daily Value tells you how much of a nutrient in a serving of food contributes to a daily diet. 2,000 calories a day is used for general nutrition advice. 3g Saturated Fat; 3g Monounsaturated Fat; Carbohydrates; 4.2g Fiber; 12.8mg Niacin; 0.8mg Vitamin B6; 1.4mcg Vitamin B12; 2.8mg Iron; 30.1mcg Selenium; Zinc; 98.1mg Choline;
Courtesy of BeefItsWhatsForDinner.com