Classic London Broil
Despite it's name, this recipe is very American. London Broil is made with Top Round Steak, marinated for hours in a flavorful mixture, broiled in the oven, and served with a delicious herb-butter.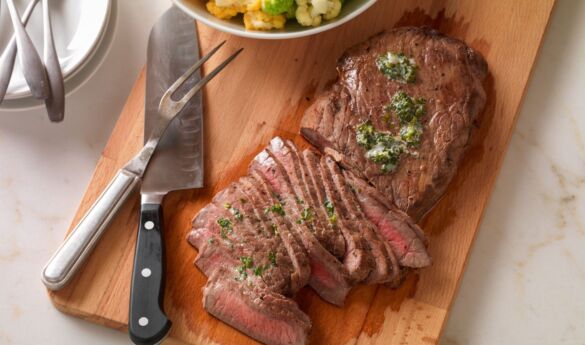 Ingredients
1 beef Top Round Steak, cut 1-1'2" thick (about 2 pounds)
3/4 cup reduced-sodium beef broth
2 tablespoons fresh lemon juice
2 tablespoons olive oil
1 tablespoon soy sauce
1 tablespoon Worcestershire sauce
1 teaspoon kosher salt
1/2 teaspoon pepper
4 tablespoons butter, softened
1-1/2 tablespoons chopped fresh chives
1 tablespoon chopped fresh parsley leaves
2 teaspoons chopped fresh tarragon or chervil
2 teaspoons fresh lemon juice
1/4 teaspoon salt
1/4 teaspoon pepper
45 Minutes
8 Servings
207kcal Calories
26g Protein
Cooking
Combine Marinade ingredients in small bowl. Place the beef steak and marinade in food-safe plastic bag; turn to coat. Close bag securely and marinate in refrigerator for 6 hours or as long as overnight.

Combine Herb Butter ingredients in small bowl, mixing well. Cover and refrigerate until ready to use.

Remove the steak from marinade; discard marinade. Pat steak dry with paper towel. Preheat broiler. Place steak on rack in broiler pan so surface of beef is 3 to 4 inches from heat. Broil 27 to 29 minutes for medium rare (145°F) doneness, turning once

Carve steak into thin slices; top with herb butter and drizzle with pan juices, as desired.

Nutrition
| Serv Size | Calories | Total Fat | Cholesterol | Total Carbs | Protein |
| --- | --- | --- | --- | --- | --- |
| 8 | 207kcal | 11g | 85mg | 1g | 26g |
* The % Daily Value tells you how much of a nutrient in a serving of food contributes to a daily diet. 2,000 calories a day is used for general nutrition advice. 5g Saturated Fat; 4g Monounsaturated Fat; Carbohydrates; 0.1g Fiber; 7.7mg Niacin; 0.8mg Vitamin B6; 2mcg Vitamin B12; 2.9mg Iron; 26.3mcg Selenium; Zinc; 78.8mg Choline;
Courtesy of BeefItsWhatsForDinner.com