Country Fried Beef Steaks with Spicy Blue Cheese Sauce
Looking to whip up a down-home meal your whole family will love? Try these country fried steaks with a tangy and spicy blue cheese sauce.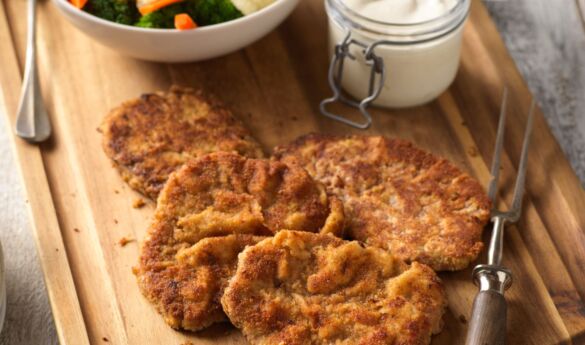 Ingredients
1 pound beef Eye Of Round Steaks, cut 3/4 inch thick (about 4 steaks)
1/2 cup all-purpose flour
3/4 teaspoon salt, divided
1/4 teaspoon black pepper
1 egg, beaten
1 tablespoon water
1/2 cup unseasoned dry bread crumbs
1/4 teaspoon garlic powder
1/4 teaspoon ground red pepper
2 tablespoons vegetable oil
1/2 cup refrigerated prepared blue cheese dressing
1/4 cup dairy sour cream
1 teaspoon green hot pepper sauce
30 Minutes
4 Servings
625kcal Calories
50g Protein
Cooking
Combine flour, 1/2 teaspoon salt and black pepper in shallow dish. Whisk egg and water together in shallow bowl until blended. Combine bread crumbs, remaining 1/4 teaspoon salt, garlic powder and red pepper in separate shallow dish.
Place beef Steaks between sheets of waxed paper; pound to 1/4 inch thickness. Dip each steak in flour mixture to coat both sides lightly; shake off excess. Dip in egg mixture, then in bread crumb mixture to coat.
Heat 1 tablespoon oil in large nonstick skillet over medium heat until hot. Place 2 steaks in skillet; cook 5 minutes or until coating is crisp and golden and beef is medium rare (145°F), turning once. (Do not overcook.) Remove steaks; keep warm. Repeat with remaining oil, if needed, and steaks.
Meanwhile combine sauce ingredients in small bowl. Serve with steaks.
Nutrition
| Serv Size | Calories | Total Fat | Cholesterol | Total Carbs | Protein |
| --- | --- | --- | --- | --- | --- |
| 4 | 625kcal | 35g | 186mg | 25g | 50g |
* The % Daily Value tells you how much of a nutrient in a serving of food contributes to a daily diet. 2,000 calories a day is used for general nutrition advice. 9g Saturated Fat; 11g Monounsaturated Fat; Carbohydrates; 1.2g Fiber; 10.6mg Niacin; 0.9mg Vitamin B6; 6.5mcg Vitamin B12; 5.8mg Iron; 75.7mcg Selenium; Zinc; Choline;
Courtesy of BeefItsWhatsForDinner.com