Garlic-Basil Toasted Beef Sandwiches
Fresh tomatoes and basil join fork-tender slow cooked beef on this savory sandwich.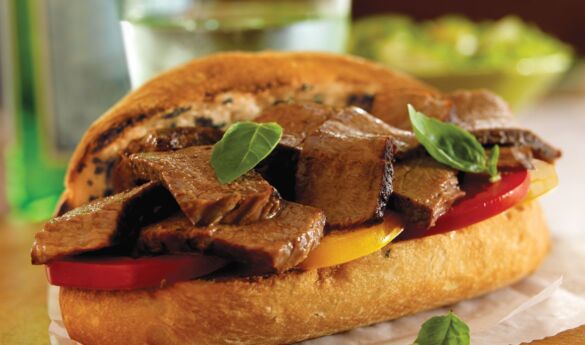 Ingredients
1-1/2 pounds beef Eye of Round Steaks, cut 3/4 inch thick
2 tablespoons minced garlic
1 teaspoon pepper
1 cup water
4 crusty rolls (4 inches long), split
Sliced tomatoes (optional)
1/2 cup reduced-fat or regular mayonnaise
1/4 cup chopped fresh basil
1 teaspoon minced garlic
120 Minutes
4 Servings
444kcal Calories
43g Protein
Cooking
Combine 2 tablespoons garlic and pepper; press evenly onto beef Steaks. Heat large nonstick skillet over medium heat until hot. Place steaks in skillet; brown evenly. Season with salt, as desired.
Add water to skillet; bring to a boil. Reduce heat; cover tightly and simmer 1-1/4 to 1-3/4 hours or until beef is fork-tender.
Meanwhile combine mayonnaise ingredients in small bowl. Spread cut sides of rolls with mayonnaise mixture. Place on baking pan so surface of rolls is 3 to 4 inches from heat. Broil 1 to 2 minutes or until lightly browned. Place sliced tomatoes on bottom half of rolls, if desired.
Carve Steaks into thin slices. Divide steak slices evenly over roll bottoms; top with some of the cooking liquid. Close sandwiches. Serve with remaining cooking liquid for dipping, as desired.
Nutrition
| Serv Size | Calories | Total Fat | Cholesterol | Total Carbs | Protein |
| --- | --- | --- | --- | --- | --- |
| 4 | 444kcal | 12g | 79mg | 35g | 43g |
* The % Daily Value tells you how much of a nutrient in a serving of food contributes to a daily diet. 2,000 calories a day is used for general nutrition advice. 4g Saturated Fat; 3g Monounsaturated Fat; Carbohydrates; 1.2g Fiber; 8.8mg Niacin; 0.5mg Vitamin B6; 2.1mcg Vitamin B12; 4.7mg Iron; 42.5mcg Selenium; Zinc; Choline;
Courtesy of BeefItsWhatsForDinner.com