Garlic-Herb Crusted Beef Roast
A quick rub with staple seasonings give this lean roast a delicious flavor. As the beef cooks, whip up your favorite side dishes and you can feed a crowd!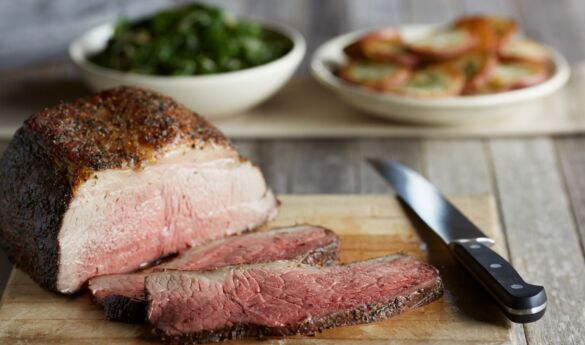 Ingredients
1 boneless beef Bottom Round Roast, Bottom Round Rump Roast or Top Round Roast (3 to 4 pounds)
Salt and ground black pepper
2 teaspoons garlic-pepper seasoning
2 teaspoons dried basil leaves, crushed
2 teaspoons dried thyme leaves, crushed
1 teaspoon dried parsley leaves, crushed
135 Minutes
8 Servings
366kcal Calories
58g Protein
Cooking
Preheat oven to 325°F. Combine rub ingredients in small bowl; press evenly onto all surfaces of beef Roast.
Place roast on rack in shallow roasting pan. Insert ovenproof meat thermometer so tip is centered in thickest part of beef. Do not add water or cover. Roast in 325°F oven 1-1/4 to 1-3/4 hours for medium rare doneness.
Remove roast when meat thermometer registers 135°F for medium rare. Transfer roast to carving board; tent loosely with aluminum foil. Let stand 15 to 20 minutes. (Temperature will continue to rise about 10°F to reach 145°F for medium rare.)
Carve roast into thin slices; season with salt and black pepper, as desired.
Nutrition
| Serv Size | Calories | Total Fat | Cholesterol | Total Carbs | Protein |
| --- | --- | --- | --- | --- | --- |
| 8 | 366kcal | 13g | 158mg | 0g | 58g |
* The % Daily Value tells you how much of a nutrient in a serving of food contributes to a daily diet. 2,000 calories a day is used for general nutrition advice. 5g Saturated Fat; 6g Monounsaturated Fat; Carbohydrates; 0g Fiber; 16.8mg Niacin; 0.8mg Vitamin B6; 3.2mcg Vitamin B12; 5.5mg Iron; 65.2mcg Selenium; Zinc; 220.6mg Choline;
Courtesy of BeefItsWhatsForDinner.com