Gochujang Beef Banh Mi Sandwiches
Korean chili pepper brings the Vietnamese Banh Mi to the next level. Spicy, rich, pickled and full of textures - this sandwich has it all.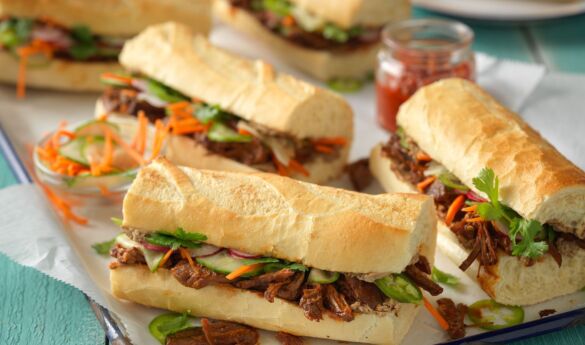 Ingredients
1 beef Arm Chuck Roast (about 2 pounds)
1 teaspoon freshly ground black pepper
1 cup Roasted Beef Stock
1/4 cup Korean red chili sauce (Gochujang)
2 tablespoons minced garlic
1 tablespoon fish sauce (nam pla)
1 tablespoon hoisin sauce
1 tablespoon sambal
1 cup thinly sliced cucumber
1 cup shredded carrot
1/2 cup pickled ginger
2 tablespoons unseasoned rice vinegar
1/4 cup fresh lime juice
1/4 cup Classic Chopped Beef Liver
1 teaspoon plum sauce
1/2 teaspoon Cognac
2 tablespoons heavy whipping cream
6 banh mi or French bread rolls (each 5 inches long), split
405 Minutes
6 Servings
582kcal Calories
51g Protein
Cooking
Cut beef roast into 2 to 3" pieces; season with pepper. Coat large nonstick skillet with nonstick spray; heat over medium until hot. Add half of beef; brown evenly, 3 to 4 minutes per side.

Transfer beef to slow cooker. Repeat with remaining beef.


Add stock to skillet; cook and stir 1 to 2 minutes or until browned bits attached to skillet are dissolved. Stir in gochujang, garlic, fish sauce, hoisin sauce and sambal. Pour mixture into slow cooker. Cover and cook on HIGH 4 hours or LOW 6 hours or until roast is fork-tender.

Meanwhile, combine cucumber, carrots, ginger and vinegar in small bowl. Cover and refrigerate.

Remove roast from slow cooker. Skim fat from cooking liquid. Reserve 1 tablespoon cooking liquid. Shred beef with 2 forks. Combine shredded beef, remaining cooking liquid and lime juice. Season with salt and pepper, as desired. Cover; keep warm.

Combine Beef Chopped Liver, reserved 1 tablespoon cooking liquid, plum sauce and Cognac in small bowl; mix well. Season with salt, as desired. Using a whisk, whip cream in small deep bowl to soft peaks. Fold cream into liver mixture. Cover and refrigerate until ready to serve.

Spread 2 teaspoons liver mixture evenly over cut sides of each roll. Divide shredded beef evenly among rolls; top with cucumber mixture. Top with additional pickled onions, radishes, carrot, basil, mint, jalapeño peppers, cilantro and lime wedges, if desired.

Nutrition
| Serv Size | Calories | Total Fat | Cholesterol | Total Carbs | Protein |
| --- | --- | --- | --- | --- | --- |
| 6 | 582kcal | 23g | 173mg | 37g | 51g |
* The % Daily Value tells you how much of a nutrient in a serving of food contributes to a daily diet. 2,000 calories a day is used for general nutrition advice. 9g Saturated Fat; 10g Monounsaturated Fat; Carbohydrates; 3.8g Fiber; 6.7mg Niacin; 0.6mg Vitamin B6; 6.7mcg Vitamin B12; 6.9mg Iron; 52.3mcg Selenium; Zinc; 199.3mg Choline;
Courtesy of BeefItsWhatsForDinner.com