Grilled Southwest Steaks with Spicy Corn Salsa
This recipe is great to make down home on the ranch or at your apartment in the city. Spicy and tangy Southwestern corn salsa is a vibrant side dish to these flavorful steaks.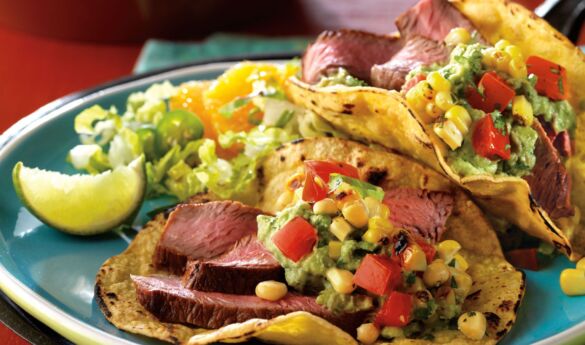 Ingredients
2 boneless beef Chuck Shoulder Steaks, cut 3/4 inch thick (8 to 10 ounces each)
1/2 cup prepared sweet barbecue sauce
3 tablespoons minced green onion
2 tablespoons finely chopped fresh cilantro
2 medium jalapeño peppers, minced
1 cup frozen corn
30 Minutes
4 Servings
232kcal Calories
26g Protein
Cooking
Combine barbecue sauce, onion, cilantro and peppers in small bowl. Cover and refrigerate 1/4 cup for salsa. Place beef steaks and remaining barbecue sauce mixture in food-safe plastic bag; turn steaks to coat. Close bag securely and marinate in refrigerator 6 hours or as long as overnight, turning occasionally.
Remove steaks from marinade; discard marinade. Place steaks on grid over medium, ash-covered coals. Grill, covered, 8 to 12 minutes (over medium heat on preheated gas grill, 9 to 12 minutes) for medium rare (145°F) to medium (160°F) doneness, turning occasionally.
Meanwhile combine corn and reserved 1/4 cup marinade in small bowl; season with salt, as desired. Set aside.
Carve steaks into thin slices; season with salt and pepper, as desired. Serve with corn salsa.
Nutrition
| Serv Size | Calories | Total Fat | Cholesterol | Total Carbs | Protein |
| --- | --- | --- | --- | --- | --- |
| 4 | 232kcal | 6g | 8mg | 17g | 26g |
* The % Daily Value tells you how much of a nutrient in a serving of food contributes to a daily diet. 2,000 calories a day is used for general nutrition advice. 2g Saturated Fat; 3g Monounsaturated Fat; Carbohydrates; 1.2g Fiber; 3.4mg Niacin; 0.3mg Vitamin B6; 2.5mcg Vitamin B12; 3.5mg Iron; 25.8mcg Selenium; Zinc; Choline;
Courtesy of BeefItsWhatsForDinner.com