Herbed Onion Beef Brisket
To slice or to shred? That's always the debate with beef Brisket. This recipe is slow cooked with onions and herbs to yield a flavorful sauce, no matter how you slice (or shred) it.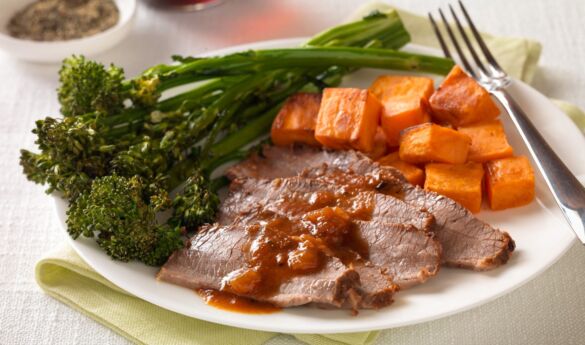 Ingredients
1 beef Brisket Flat Half (2-1/2 to 3-1/2 pounds)
1 cup ketchup
2 tablespoons all-purpose flour
3 cups chopped onions
1/4 cup plus 2 tablespoons packed brown sugar
1/4 cup distilled white vinegar
2 teaspoons dried basil leaves
1 teaspoon garlic salt
1/2 teaspoon dried thyme leaves
1/4 teaspoon pepper
255 Minutes
6 Servings
268kcal Calories
29g Protein
Cooking
Combine ketchup and flour in medium bowl; whisk until well blended. Add onions, brown sugar, vinegar, basil, garlic salt, thyme and pepper; mix well. Place brisket, fat-side up in 3-1/2 to 5-1/2-quart slow cooker. Pour ketchup mixture over brisket. Cover and cook on HIGH 4 hours for sliceable brisket; 6 hours for shredded brisket. Serve with sauce.

Nutrition
| Serv Size | Calories | Total Fat | Cholesterol | Total Carbs | Protein |
| --- | --- | --- | --- | --- | --- |
| 6 | 268kcal | 5g | 83mg | 34g | 29g |
* The % Daily Value tells you how much of a nutrient in a serving of food contributes to a daily diet. 2,000 calories a day is used for general nutrition advice. 2g Saturated Fat; 2g Monounsaturated Fat; Carbohydrates; 1.6g Fiber; 7.7mg Niacin; 0.4mg Vitamin B6; 2.1mcg Vitamin B12; 3.1mg Iron; 30.4mcg Selenium; Zinc; 113.1mg Choline;
Courtesy of BeefItsWhatsForDinner.com