Mediterranean Braised Beef
Pot Roast made more modern. Instead of root vegetables and starches, this Shoulder Roast simmers in an unexpected yet delicious blend of balsamic vinegar, onions, shallots and dates.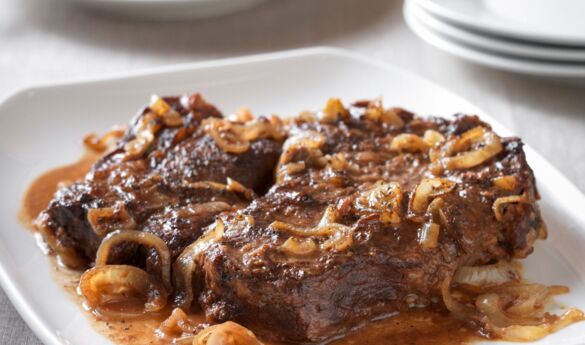 Ingredients
1 beef Shoulder Roast Boneless (2-1/2 to 3 pounds)
1/4 cup all-purpose flour
2 tablespoons olive oil
1-1/2 cups water
1/4 cup balsamic vinegar
2 small onions, halved, sliced
4 medium shallots, sliced
1/4 cup chopped pitted dates
1/2 teaspoon salt
1/4 to 1/2 teaspoon black pepper
240 Minutes
8 Servings
283kcal Calories
34g Protein
Cooking
Heat oven to 325°F. Lightly coat beef pot roast with flour. Heat oil in Dutch oven over medium heat until hot. Brown pot roast; remove.
Add 1-1/2 cups water and vinegar to Dutch oven; cook and stir until brown bits attached to pan are dissolved. Return pot roast. Add onions, shallots, dates, salt and pepper; bring to a boil. Cover tightly and cook in 325°F oven 2-1/4 to 3-1/4 hours or until pot roast is fork-tender. Remove pot roast; keep warm.
Cook liquid and vegetables over medium-high heat to desired consistency. Carve pot roast. Serve with sauce.
Nutrition
| Serv Size | Calories | Total Fat | Cholesterol | Total Carbs | Protein |
| --- | --- | --- | --- | --- | --- |
| 8 | 283kcal | 12g | 104mg | 10g | 34g |
* The % Daily Value tells you how much of a nutrient in a serving of food contributes to a daily diet. 2,000 calories a day is used for general nutrition advice. 3g Saturated Fat; 6g Monounsaturated Fat; Carbohydrates; 1g Fiber; 5.3mg Niacin; 0.6mg Vitamin B6; 3.6mcg Vitamin B12; 4.2mg Iron; 42.1mcg Selenium; Zinc; 101.9mg Choline;
Courtesy of BeefItsWhatsForDinner.com