Slow-Cooked Red Wine Braised Beef Short Ribs with Herbed Polenta Toast
Fall off the bone Short Ribs made even more crave-worthy with a rich red wine sauce. An herbed polenta toast offers a unique flavor and textural accompaniment.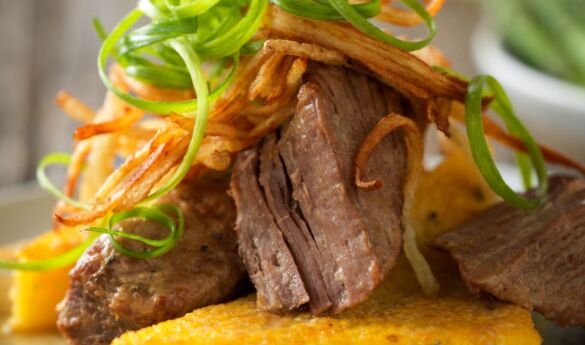 Ingredients
3 pounds beef Chuck Short Ribs Boneless or Bone-In (about 4 x 2-inch pieces)
1/4 cup all-purpose flour
1 teaspoon kosher salt
1 teaspoon freshly ground black pepper
2 teaspoons olive oil
1 cup dry red wine
2 cups diced onions
1 cup diced celery
1 cup diced carrot
4 cups Roasted Beef Stock, divided
15 fresh thyme sprigs
7 fresh rosemary sprigs
3/4 cup instant polenta
1/2 teaspoon minced fresh rosemary leaves
1/2 teaspoon minced fresh thyme leaves
3 green onions, green part only, cut diagonally into 1/8-inch strips
Fried shoestring potatoes (optional)
390 Minutes
6 Servings
620kcal Calories
42g Protein
Cooking
Mix flour, salt and pepper in medium bowl. Coat beef Short Ribs in flour mixture. Heat large skillet over medium-high heat until hot; coat with cooking spray. Brown half ribs evenly, about 4 to 5 minutes per side; remove from skillet. Repeat remaining ribs; remove ribs from skillet. Reduce heat to low; add wine. Cook 1 to 2 minutes until browned bits attached to skillet are dissolved.

Add onions, celery and carrot to slow cooker. Place ribs on vegetables. Pour wine mixture over ribs. Add 1 cup Roasted Beef Stock, thyme and rosemary sprigs. Cover; cook HIGH 6 hours or LOW 7 hours or until beef is fork-tender.

Meanwhile, cook polenta according to package instructions, replacing water with Roasted Beef Stock. Stir in 1/2 teaspoon chopped rosemary and 1/2 teaspoon chopped thyme. Season with salt and pepper, if desired.

Line 8 by 8-inch baking dish with aluminum foil. Coat with cooking spray. Pour polenta into prepared dish, spreading evenly. Cover and refrigerate until cool.

Invert polenta onto cutting board. Cut into 6 equal squares. Cut each square diagonally in half, forming a triangle. Cover with plastic wrap; refrigerate until ready to use.

Place green onions in small bowl of ice water. Cover; refrigerate until ready to use.

Heat 1 teaspoon oil in large nonstick skillet over medium-high heat until hot. Add half of polenta triangles; cook 3 to 4 minutes per side until golden brown and slightly crispy. Remove polenta from skillet to same baking sheet. Repeat using remaining 1 teaspoon oil and remaining polenta triangles, if needed. Remove from skillet to baking sheet. Keep warm in 170°F oven until ready to use.

Remove ribs from slow cooker; keep warm. Discard thyme and rosemary sprigs from slow cooker. Strain cooking liquid through colander or fine mesh strainer; discard vegetables.

Place 2 polenta triangles into each of four large shallow bowls; top with ribs. Pour 1/3 cup cooking liquid over ribs. Drain green onions from water. Garnish with green onion and shoestring potatoes, as desired.

Nutrition
| Serv Size | Calories | Total Fat | Cholesterol | Total Carbs | Protein |
| --- | --- | --- | --- | --- | --- |
| 6 | 620kcal | 34g | 142mg | 29g | 42g |
* The % Daily Value tells you how much of a nutrient in a serving of food contributes to a daily diet. 2,000 calories a day is used for general nutrition advice. 15g Saturated Fat; 17g Monounsaturated Fat; Carbohydrates; 3.2g Fiber; 6.8mg Niacin; 0.6mg Vitamin B6; 4.9mcg Vitamin B12; 5.8mg Iron; 46.3mcg Selenium; Zinc; 140.8mg Choline;
Courtesy of BeefItsWhatsForDinner.com