Smoky Chipotle Chili
Your friends will rave for this beef chili packed with layers of flavors including beer, smoky chipotle peppers, and black beans.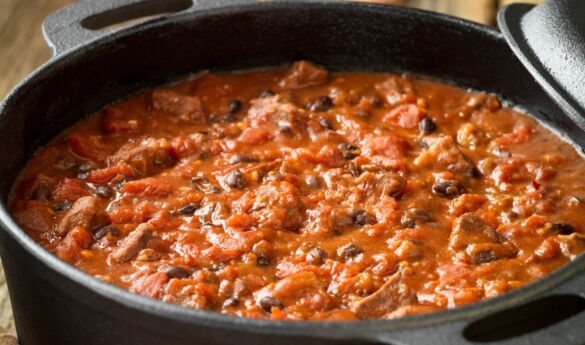 Ingredients
2-1/2 pounds beef Shoulder, Arm or Blade Roast Boneless, cut into 1/2-inch pieces
2 tablespoons vegetable oil, divided
1 teaspoon salt
3 cloves garlic, minced
2 cans (14-1/2 ounces each) diced tomatoes with green peppers and onions, undrained
1 bottle (12 ounces) beer
2 tablespoons adobo sauce from chipotle peppers
1 tablespoon minced chipotle peppers in adobo sauce
1 can (15 ounces) black beans, rinsed, drained
3 tablespoons masa harina
Dairy sour cream
150 Minutes
8 Servings
243kcal Calories
24g Protein
Cooking
Cut beef roast into 1/2-inch pieces. Heat 1 tablespoon oil in stockpot over medium heat until hot; brown beef in batches and remove from stockpot. Season with salt.
Heat remaining 1 tablespoon oil in same stockpot over medium heat. Add garlic; cook and stir 1 minute. Add beef, tomatoes, beer, adobo sauce and chipotle peppers; bring to a boil. Reduce heat; cover tightly and simmer 1-1/2 to 1-3/4 hours or until beef is fork-tender.
Stir in beans and masa harina; return to a boil. Reduce heat; simmer 1 to 2 minutes or until slightly thickened, stirring constantly. Serve with sour cream, as desired.
Nutrition
| Serv Size | Calories | Total Fat | Cholesterol | Total Carbs | Protein |
| --- | --- | --- | --- | --- | --- |
| 8 | 243kcal | 9g | 57mg | 14g | 24g |
* The % Daily Value tells you how much of a nutrient in a serving of food contributes to a daily diet. 2,000 calories a day is used for general nutrition advice. 2g Saturated Fat; 4g Monounsaturated Fat; Carbohydrates; 2.9g Fiber; 6.8mg Niacin; 0.2mg Vitamin B6; 2.4mcg Vitamin B12; 3.8mg Iron; 24.5mcg Selenium; Zinc; 0.5mg Choline;
Courtesy of BeefItsWhatsForDinner.com