Southwest Beef Wraps
Shredded beef gets a punch of flavor from salsa. A quick tomato-corn relish gets folded into a tortilla along with the beef for a hearty handheld meal.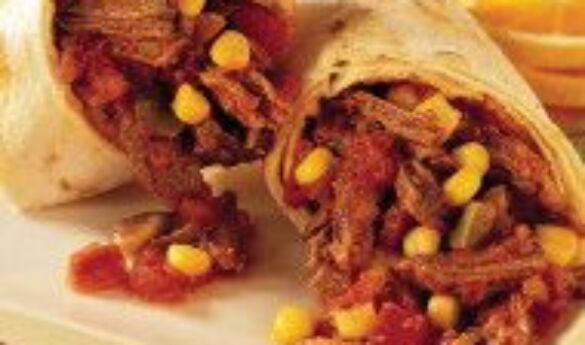 Ingredients
1 beef Shoulder Roast Boneless or Bottom Round Rump Roast (3 to 3-1/2 pounds)
1 medium onion, cut into quarters
3 cloves garlic, peeled
3/4 cup water
1 teaspoon salt
1/2 teaspoon pepper
2 jars (16 ounces each) prepared chunky salsa with cilantro
8 flour tortillas (10-inch diameter), warmed
Fresh cilantro (optional)
1 cup frozen corn, defrosted
1 cup chopped fresh tomato
2 tablespoons chopped fresh cilantro
600 Minutes
8 Servings
413kcal Calories
34g Protein
Cooking
Cut beef roast into 4 even pieces. Place onion and garlic in 4-1/2 to 5-1/2-quart slow cooker; top with beef. Add water, salt and pepper. Cover and cook on HIGH 5 to 5-1/2 hours or on LOW 9 to 9-1/2 hours or until beef is fork-tender. (No stirring is necessary during cooking.)
Remove beef; cool slightly. Strain cooking liquid; skim fat. Shred beef with 2 forks. Place beef in 2-quart microwave-safe dish; add 1/2 cup cooking liquid.
Combine relish ingredients in medium bowl; stir in 1/4 cup salsa.
Add remaining salsa to beef; mix well. Cover and microwave on HIGH 8 to 10 minutes or until heated through, stirring once.
Top each tortilla with 3/4 cup beef mixture, leaving 1-1/2-inch border around edge. Top beef with about 1/4 cup relish. Fold right and left sides of tortillas over filling; fold bottom edge over and roll up. Garnish with cilantro, if desired.
Nutrition
| Serv Size | Calories | Total Fat | Cholesterol | Total Carbs | Protein |
| --- | --- | --- | --- | --- | --- |
| 8 | 413kcal | 12g | 84mg | 41g | 34g |
* The % Daily Value tells you how much of a nutrient in a serving of food contributes to a daily diet. 2,000 calories a day is used for general nutrition advice. 4g Saturated Fat; 5g Monounsaturated Fat; Carbohydrates; 4.6g Fiber; 7.4mg Niacin; 0.5mg Vitamin B6; 1.6mcg Vitamin B12; 4.4mg Iron; 41.8mcg Selenium; Zinc; 114.5mg Choline;
Courtesy of BeefItsWhatsForDinner.com