Spicy Braised Brisket Sandwiches
Brisket is braised in a spicy mixture of beer, green chilies and crushed red pepper for just the right amount of heat. Serve the shredded beef on rolls with provolone cheese and Giardinera!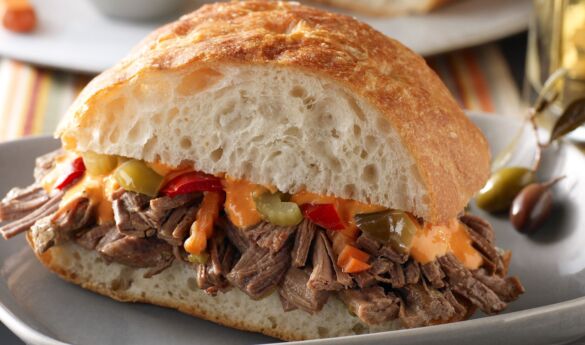 Ingredients
1 beef Brisket Flat Half (2-1/2 to 3-1/2 pounds)
1 tablespoon olive oil
1/2 teaspoon salt
1/4 teaspoon ground black pepper
1 large onion, sliced
2 cloves garlic, minced
1-1/2 cups (12 ounces) beer
2 cans (4 ounces each) chopped green chiles, undrained
1/2 cup beef broth
1 to 1-1/2 teaspoons crushed red pepper
6 to 8 Italian or ciabatta rolls, split
Giardinera (optional)
Sliced provolone or jalapeño pepper cheese (optional)
Roasted Red Pepper Mayonnaise (recipe follows) (optional)
120 Minutes
8 Servings
306kcal Calories
31g Protein
Cooking
Heat oil in stockpot over medium heat until hot. Place beef brisket in stockpot; brown evenly. Remove brisket; season with salt and black pepper.
Add onion and garlic to stockpot; cook and stir 3 to 5 minutes or until onion is crisp-tender. Return brisket, fat side up, to stockpot. Add beer, chiles, broth and red pepper as desired; bring to a boil. Reduce heat; cover tightly and simmer 2-3/4 to 3-1/4 hours or until brisket is fork-tender.
Remove brisket. Skim fat from cooking liquid; keep cooking liquid warm. Trim fat from brisket. Cut into 4 to 6 pieces; shred with 2 forks. Stir shredded beef into reserved liquid.
Serve beef mixture in rolls topped with giardiniera, cheese and mayonnaise, if desired.

Roasted Red Pepper Mayonnaise: Place 1/2 cup jarred chopped roasted red pepper, 1/2 cup mayonnaise and 1 clove chopped garlic in food processor container. Cover; process until smooth. Yield: about 2/3 cup.
Nutrition
| Serv Size | Calories | Total Fat | Cholesterol | Total Carbs | Protein |
| --- | --- | --- | --- | --- | --- |
| 8 | 306kcal | 8g | 46mg | 25g | 31g |
* The % Daily Value tells you how much of a nutrient in a serving of food contributes to a daily diet. 2,000 calories a day is used for general nutrition advice. 2g Saturated Fat; 3g Monounsaturated Fat; Carbohydrates; 2.3g Fiber; 5.7mg Niacin; 0.3mg Vitamin B6; 1.9mcg Vitamin B12; 3.4mg Iron; 27.6mcg Selenium; Zinc; Choline;
Courtesy of BeefItsWhatsForDinner.com