T-Bone Steak with Parmesan-Dusted Mushrooms
Toasted bread crumbs and Parmesan cheese give sautéed mushrooms and a juicy T-Bone Steak just the right amount of extra flavor!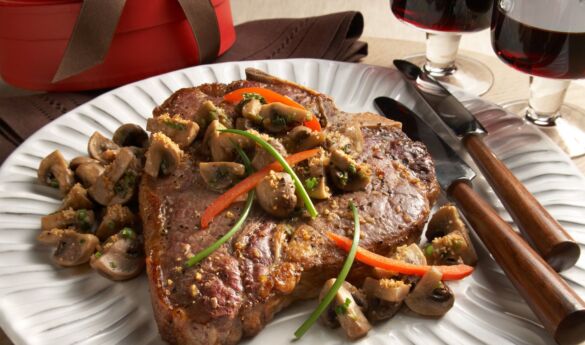 Ingredients
1 beef T-Bone or Porterhouse Steak, cut 1 inch thick
1 tablespoon butter
2 tablespoons dry bread crumbs
1 tablespoon grated Parmesan cheese
2-1/4 teaspoons steak seasoning blend
8 ounces button mushrooms, cut into quarters
1/4 cup finely chopped green onions
40 Minutes
2 Servings
330kcal Calories
27g Protein
Cooking
Melt 1 teaspoon butter in large nonstick skillet over medium heat; stir in bread crumbs and cheese. Cook and stir 3 to 6 minutes or until lightly toasted. Remove from pan. Set aside.
Press 2 teaspoons steak seasoning evenly onto beef steak. Place steak on rack in broiler pan so surface of beef is 3 to 4 inches from heat. Broil 15 to 20 minutes for medium rare (145°F) to medium (160°F) doneness, turning once.
Meanwhile, melt remaining 2 teaspoons butter in same skillet over medium heat. Add mushrooms, green onions and remaining 1/4 teaspoon steak seasoning; cook and stir 4 to 6 minutes or until mushrooms are just tender and lightly browned; keep warm.
Remove bone from steak; carve crosswise into slices. Serve with mushrooms. Sprinkle crumb mixture over mushrooms and steak.
Nutrition
| Serv Size | Calories | Total Fat | Cholesterol | Total Carbs | Protein |
| --- | --- | --- | --- | --- | --- |
| 2 | 330kcal | 20g | 66mg | 10g | 27g |
* The % Daily Value tells you how much of a nutrient in a serving of food contributes to a daily diet. 2,000 calories a day is used for general nutrition advice. 10g Saturated Fat; 8g Monounsaturated Fat; Carbohydrates; 2g Fiber; 4.4mg Niacin; 0.4mg Vitamin B6; 3.1mcg Vitamin B12; 4.5mg Iron; 13.5mcg Selenium; Zinc; Choline;
Courtesy of BeefItsWhatsForDinner.com