Texas BBQ Beef Brisket
Braised, slow-cooked or smoked. No matter how you slice it, this is BBQ Brisket made easy!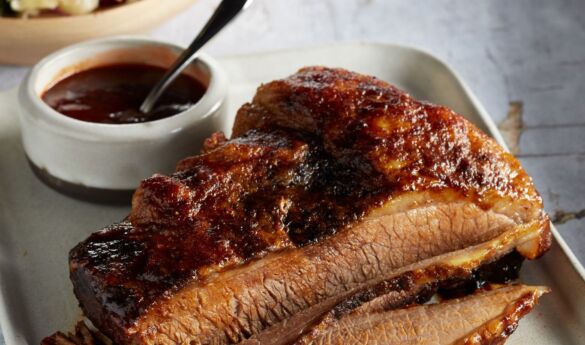 Ingredients
1 beef Brisket Flat Half (about 2-1/2 to 3-1/2 pounds)
3/4 cup barbecue sauce
1/2 cup dry red wine
2 tablespoons chili powder
1 tablespoon packed brown sugar
1-1/2 teaspoons garlic powder
210 Minutes
8 Servings
517kcal Calories
66g Protein
Cooking
Combine rub ingredients in small bowl; press evenly onto beef brisket. Place brisket, fat side up, in stockpot.
Combine barbecue sauce and wine in small bowl. Pour around brisket; bring to a boil. Reduce heat; cover tightly and simmer 2-3/4 to 3-1/4 hours or until brisket is fork-tender. Remove brisket; keep warm.
Skim fat from cooking liquid. Bring cooking liquid to a boil. Reduce heat to medium and cook, uncovered, 8 to 10 minutes or until reduced to 1 cup sauce, stirring occasionally.
Trim fat from brisket. Carve diagonally across the grain into thin slices. Serve with sauce.
Nutrition
| Serv Size | Calories | Total Fat | Cholesterol | Total Carbs | Protein |
| --- | --- | --- | --- | --- | --- |
| 8 | 517kcal | 17g | 183mg | 19g | 66g |
* The % Daily Value tells you how much of a nutrient in a serving of food contributes to a daily diet. 2,000 calories a day is used for general nutrition advice. 6g Saturated Fat; 7g Monounsaturated Fat; Carbohydrates; 1.3g Fiber; 9.8mg Niacin; 0.8mg Vitamin B6; 4.8mcg Vitamin B12; 6.3mg Iron; 63.6mcg Selenium; Zinc; 254.6mg Choline;
Courtesy of BeefItsWhatsForDinner.com