Wasabi-Beer Braised Brisket
Enjoy the heat of wasabi with the complex flavors of beer in this beer-braised brisket, thinly sliced and served on a wheat baguette.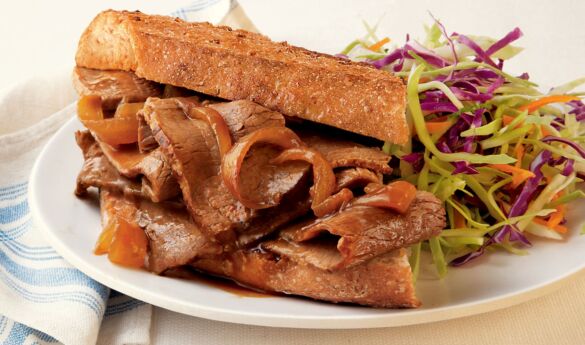 Ingredients
1 beef Brisket Flat Half (4 to 4-1/2 pounds)
2 cloves garlic, minced
1 tablespoon peanut or vegetable oil
1 teaspoon salt
1/2 teaspoon pepper
2 medium onions, each cut into 12 wedges
1 bottle (12 ounces) beer
1 bottle (12 ounces) chili sauce
2 teaspoons wasabi paste
Coleslaw (recipe follows)
3 whole wheat baguettes, cut into 10 to 12 pieces (4-1/2 to 5 inches each), split
255 Minutes
12 Servings
462kcal Calories
35g Protein
Cooking
Preheat oven to 325°F. Press garlic evenly onto all surfaces of beef brisket. Heat oil in large skillet over medium heat until hot. Place brisket in skillet; brown evenly. Remove brisket from skillet; season with salt and pepper.
Add onions to large stockpot or large baking pan. Place brisket over onions. Stir in beer and chili sauce; bring to a boil. Reduce heat; cover tightly. Continue cooking in 325°F oven 3-1/2 to 4 hours or until beef is fork-tender.
Meanwhile, prepare coleslaw.
Remove brisket; keep warm. Skim fat from cooking liquid; bring to boil. Reduce heat and simmer, uncovered, 5 minutes. Stir in wasabi paste.
Carve brisket diagonally across the grain into thin slices. Return beef to cooking liquid; keep warm. Divide beef and onions evenly over roll bottoms; close sandwiches. Serve remaining sauce for dipping, if desired. Serve with coleslaw.

Coleslaw: Combine ½ cup rice vinegar, 2 tablespoons peanut or vegetable oil, 2 tablespoons toasted sesame oil, 2 teaspoons minced fresh ginger and 2 teaspoons honey in large bowl. Add 1 package (16 ounces) coleslaw mix and 1 package (8 ounces) shredded red cabbage; toss to coat. Season with salt, if desired.
Nutrition
| Serv Size | Calories | Total Fat | Cholesterol | Total Carbs | Protein |
| --- | --- | --- | --- | --- | --- |
| 12 | 462kcal | 14g | 49mg | 48g | 35g |
* The % Daily Value tells you how much of a nutrient in a serving of food contributes to a daily diet. 2,000 calories a day is used for general nutrition advice. 3g Saturated Fat; 6g Monounsaturated Fat; Carbohydrates; 6.6g Fiber; 6.8mg Niacin; 0.5mg Vitamin B6; 2.1mcg Vitamin B12; 4.4mg Iron; 61.6mcg Selenium; Zinc; 136.3mg Choline;
Courtesy of BeefItsWhatsForDinner.com