Zesty BBQ Cheeseburgers
Who can resist a juicy Ground Beef burger with extra zip from BBQ sauce?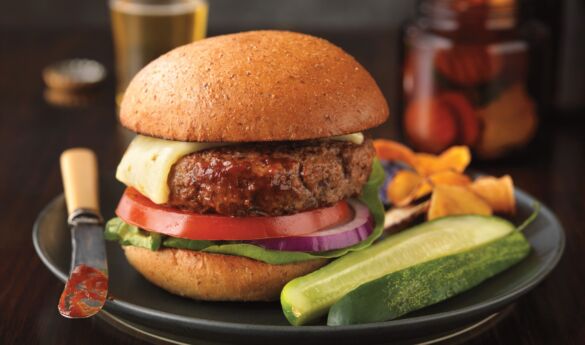 Ingredients
1 pound Ground Beef
1/4 cup finely chopped red onion
4 tablespoons barbecue sauce, divided
4 slices white Cheddar, pepper Jack, smoked Gouda or provolone cheese
4 whole wheat hamburger buns or pretzel rolls, split, toasted
Lettuce leaves, tomato slices and red onion slices
30 Minutes
4 Servings
410kcal Calories
33g Protein
Cooking
Combine Ground Beef, onion and 2 tablespoons barbecue sauce in medium bowl, mixing lightly but thoroughly. Shape into four 1/2-inch thick patties.
Place patties on grid over medium, ash-covered coals. Grill, covered, 8 to 10 minutes (over medium heat on preheated gas grill, 7 to 9 minutes) until instant-read thermometer inserted horizontally into center registers 160°F, turning occasionally. About 1 minute before burgers are done, brush with remaining 2 tablespoons barbecue sauce and top with cheese.
Line bottom half of each bun with lettuce leaves, tomato and red onion slices, as desired; top with burger. Close sandwiches.
Nutrition
| Serv Size | Calories | Total Fat | Cholesterol | Total Carbs | Protein |
| --- | --- | --- | --- | --- | --- |
| 4 | 410kcal | 17g | 96mg | 29g | 33g |
* The % Daily Value tells you how much of a nutrient in a serving of food contributes to a daily diet. 2,000 calories a day is used for general nutrition advice. 8g Saturated Fat; 4g Monounsaturated Fat; Carbohydrates; 3.5g Fiber; 8.7mg Niacin; 0.5mg Vitamin B6; 2.3mcg Vitamin B12; 3.8mg Iron; 39.5mcg Selenium; Zinc; 91.1mg Choline;
Courtesy of BeefItsWhatsForDinner.com