Asian Beef & Broccoli with Noodles
Add some more flavor to packaged ramen noodles. This stir-fry recipe with beef Top Round is quick and sure to satisfy any hunger.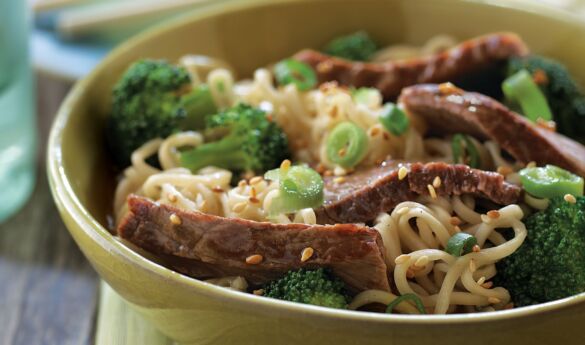 Ingredients
1-1/4 pounds beef Top Round or Top Sirloin steak boneless, cut 1 inch thick
2 packages (3 ounces each) Oriental-flavored instant ramen noodles, broken up
1-1/2 teaspoons cornstarch dissolved in 1/2 cup water
2 tablespoons vegetable oil
1/2 pound broccoli florets - Broccoli florets are sold in packages in the produce section of some supermarkets or in supermarket salad bars. If the florets are too large, cut them into bite-size pieces.
2 medium carrots, thinly sliced
1 teaspoon grated orange rind (optional)
30 Minutes
4 Servings
431kcal Calories
32g Protein
Cooking
Cut beef steak lengthwise in half, then crosswise into 1/8-inch thick strips. Combine seasoning from ramen noodles with cornstarch mixture in large bowl. Add beef; toss.
Heat 1 tablespoon oil in large nonstick skillet over medium-high heat until hot. Stir-fry broccoli and carrots 1 minute. Add noodles and 1-1/2 cups water; bring to a boil. Reduce heat; cover and simmer 3 to 5 minutes or until vegetables are tender and most of liquid is absorbed, stirring occasionally. Remove; keep warm.
Heat remaining oil in same skillet over medium-high heat until hot. Drain beef, discarding marinade. Stir-fry 1/2 of beef 1 to 2 minutes or until outside surface of beef is no longer pink. (Do not overcook.) Remove. Repeat with remaining beef. Serve over noodles. Sprinkle with orange rind.
Nutrition
| Serv Size | Calories | Total Fat | Cholesterol | Total Carbs | Protein |
| --- | --- | --- | --- | --- | --- |
| 4 | 431kcal | 19g | 50mg | 35g | 32g |
* The % Daily Value tells you how much of a nutrient in a serving of food contributes to a daily diet. 2,000 calories a day is used for general nutrition advice. 7g Saturated Fat; 5g Monounsaturated Fat; Carbohydrates; 4g Fiber; 5.7mg Niacin; 0.5mg Vitamin B6; 1.5mcg Vitamin B12; 4.1mg Iron; 34.5mcg Selenium; Zinc; Choline;
Courtesy of BeefItsWhatsForDinner.com