BBQ Beef Chuck Steak
Flavorful 7-Bone Chuck Steak is marinated and grilled. Use the marinade as your barbecue sauce.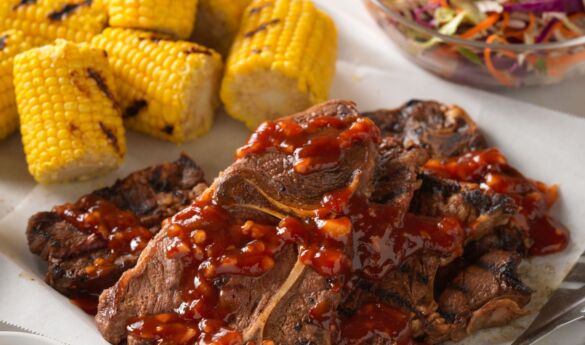 Ingredients
1 beef 7-Bone Chuck Steak, cut 3/4 to 1 inch thick (about 2 pounds)
1 cup finely chopped onion
1 cup ketchup
1/3 cup packed brown sugar
1/3 cup red wine vinegar
1 tablespoon Worcestershire sauce
1/8 to 1/4 teaspoon crushed red pepper
25 Minutes
8 Servings
270kcal Calories
22.1g Protein
Cooking
Combine marinade ingredients in medium bowl. Place beef steak and 1 cup marinade in food-safe plastic bag; turn to coat. Close bag securely and marinate in refrigerator 6 hours or as long as overnight, turning occasionally. Refrigerate remaining marinade.
Remove steak; discard marinade. Place steak on grid over medium, ash-covered coals. Grill, covered, 15 to 18 minutes for medium rare (145°F) to medium (160°F) doneness, turning occasionally.
Place remaining marinade in small saucepan; bring to a boil. Reduce heat; simmer 10 to 15 minutes or until sauce consistency, stirring occasionally.
Cut steak into serving-size pieces. Serve with sauce.
Nutrition
| Serv Size | Calories | Total Fat | Cholesterol | Total Carbs | Protein |
| --- | --- | --- | --- | --- | --- |
| 8 | 270kcal | 11.1g | 71.5mg | 20.7g | 22.1g |
* The % Daily Value tells you how much of a nutrient in a serving of food contributes to a daily diet. 2,000 calories a day is used for general nutrition advice. 4.4g Saturated Fat; 4.6g Monounsaturated Fat; Carbohydrates; 0.5g Fiber; 6.4mg Niacin; 0.4mg Vitamin B6; 5.1mcg Vitamin B12; 2.9mg Iron; 33mcg Selenium; Zinc; 97.8mg Choline;
Courtesy of BeefItsWhatsForDinner.com