See All Recipes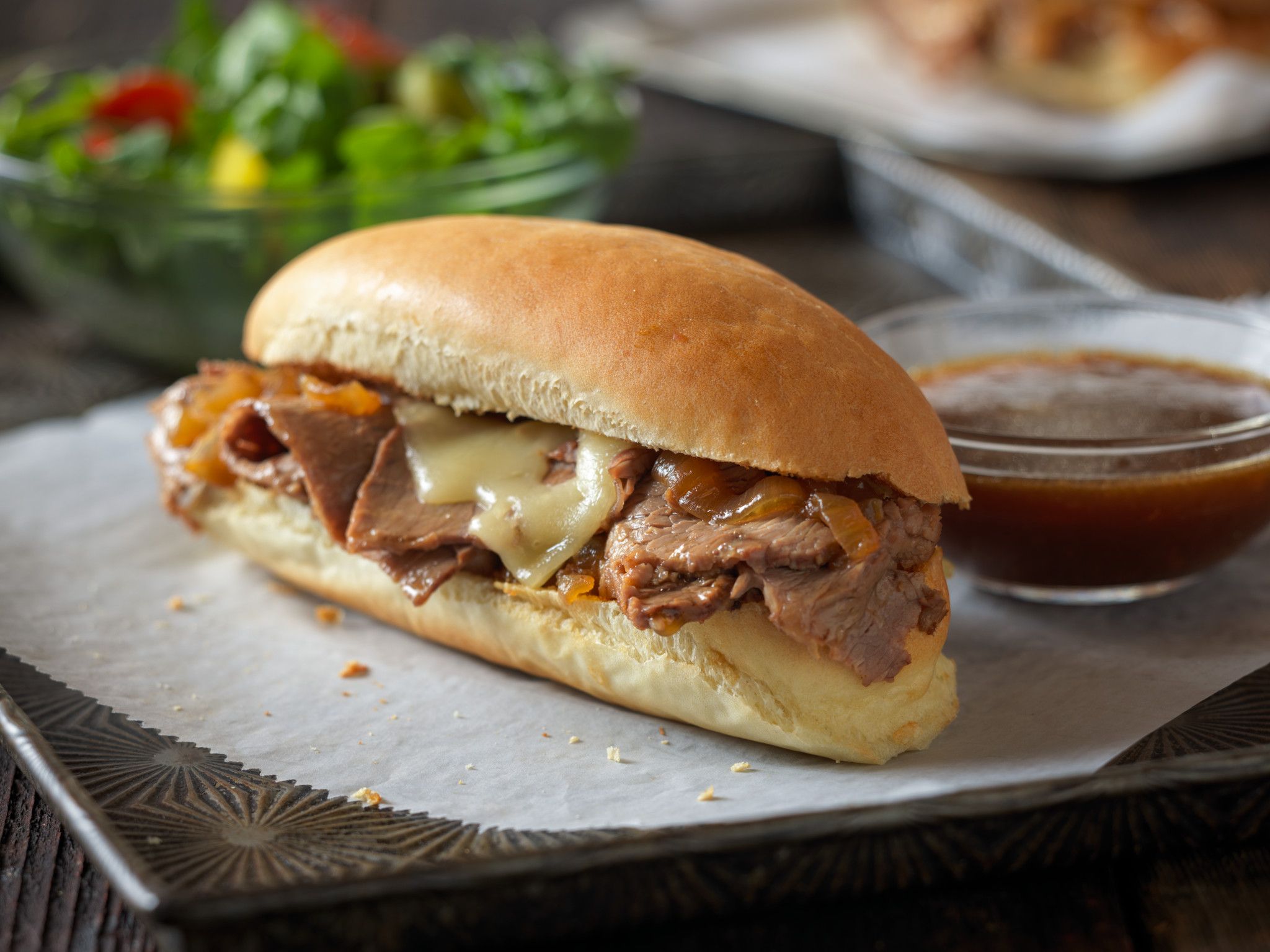 Time: 210 Minutes
Beef French Dip with Au Jus
Slow-cooked beef Brisket has never tasted so good. Sliced thin and stacked on a hoagie roll, you almost don't need the au jus. Almost.
Ingredients
2-1/2 to 3-1/2 pounds beef Brisket
2 tablespoons vegetable oil
2 large sweet onions, cut into 1/4-inch slices
2 cups reduced-sodium beef broth
2 tablespoons reduced-sodium soy sauce
1 package (1-1/4 ounces) dry onion soup mix
1 teaspoon minced garlic
8 to 10 French rolls, split, toasted
Quick Facts
210 Minutes
10 Servings
258kcal Calories
18g Protein
Cooking
Cut Brisket into 3 to 4 pieces.  Heat oil in stockpot over medium heat until hot. Place beef brisket in stockpot; brown pieces evenly. Remove brisket from stockpot; set aside.
Add onions to stockpot; cook on low heat 18 to 22 minutes until lightly caramelized, stirring occasionally. Add broth, soy sauce, soup mix and garlic. Return brisket to stockpot; bring to a boil.  Reduce heat; cover tightly and simmer 2-1/2 to 3 hours or until brisket is fork-tender. 


Remove brisket; keep warm.  Skim fat from cooking liquid.  Carve brisket against the grain into very thin slices.  Divide brisket evenly among rolls.  Close sandwiches.
Serve sandwiches with cooking liquid on the side for dipping.
Nutrition
| Serv Size | Calories | Total Fat | Cholesterol | Total Carbs | Protein |
| --- | --- | --- | --- | --- | --- |
| 10 | 258kcal | 10g | 39mg | 28g | 18g |
* The % Daily Value tells you how much of a nutrient in a serving of food contributes to a daily diet. 2,000 calories a day is used for general nutrition advice. 3g Saturated Fat; 1g Monounsaturated Fat; Carbohydrates; 1.9g Fiber; 3.1mg Niacin; 0.2mg Vitamin B6; 0.7mcg Vitamin B12; 2.1mg Iron; 10mcg Selenium; Zinc; 40.4mg Choline;
Courtesy of BeefItsWhatsForDinner.com