Beef Tenderloin Steaks with Red Wine Sauce
Treat yourself to these juicy beef Tenderloin Steaks topped with a wine, cognac and soy cream sauce.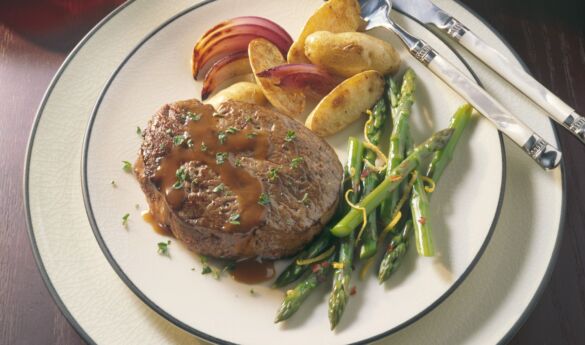 Ingredients
2 beef Tenderloin Steaks, cut 3/4 inch thick (about 4 ounces each)
1 teaspoon coarse grind black pepper
1/2 cup Pinot Noir or other dry red wine
3 tablespoons cognac or brandy
2 tablespoons reduced sodium soy sauce
2 tablespoons whipping cream
1/2 teaspoon brown sugar
1 tablespoon unsalted butter, softened
Chopped fresh parsley (optional)
25 Minutes
2 Servings
384kcal Calories
26g Protein
Cooking
Press pepper evenly onto beef steaks. Heat 12-inch nonstick skillet over medium heat until hot. Place steaks in skillet; cook 7 to 10 minutes for medium rare (145°F) to medium (160°F) doneness, turning occasionally. Remove to platter; keep warm.
Add wine, cognac and soy sauce to skillet; bring to a boil. Cook 2 to 3 minutes or until reduced to about 1/4 cup. Whisk in cream and brown sugar; bring to a boil. Reduce heat; simmer 1 to 2 minutes or until slightly thickened, stirring occasionally. (Sauce will turn a rich chocolate-brown color.)
Remove from heat. Add butter; stir until melted. Spoon sauce over steaks. Garnish with parsley, if desired.
Nutrition
| Serv Size | Calories | Total Fat | Cholesterol | Total Carbs | Protein |
| --- | --- | --- | --- | --- | --- |
| 2 | 384kcal | 18g | 103mg | 4g | 26g |
* The % Daily Value tells you how much of a nutrient in a serving of food contributes to a daily diet. 2,000 calories a day is used for general nutrition advice. 10g Saturated Fat; 6g Monounsaturated Fat; Carbohydrates; 0.4g Fiber; 7.7mg Niacin; 0.6mg Vitamin B6; 4.5mcg Vitamin B12; 2.3mg Iron; 28.9mcg Selenium; Zinc; Choline;
Courtesy of BeefItsWhatsForDinner.com