Beef Tenderloin with Roasted Cauliflower "Steak"
Two "steaks" in one recipe! Try these juicy Tenderloin Steaks with roasted cauliflower cut into "steak" portions.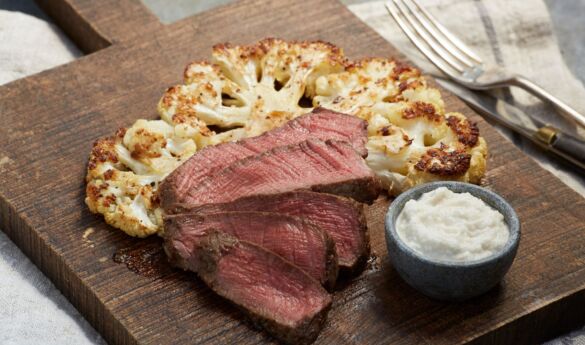 Ingredients
4 beef Tenderloin Steaks, cut 3/4" thick (about 4 ounces each)
1 large head cauliflower
2 tablespoons olive oil
2 tablespoons prepared creamy horseradish sauce
1 teaspoon salt
1 teaspoon pepper
1/2 teaspoon dried minced onion
1/2 teaspoon granulated garlic
50 Minutes
4 Servings
298kcal Calories
29g Protein
Cooking
Preheat the oven to 400°F. Trim leaves from cauliflower, leaving the stem intact. Cut cauliflower vertically from top through stem. Cut each half into two 3/4-inch slices, saving any florets or large pieces that remain. 
Place cauliflower on a sheet pan and drizzle both sides with olive oil. 
Combine Rub ingredients; sprinkle 1/2 teaspoon over both sides of cauliflower slices. Bake 40 minutes or until cauliflower is tender.
After 15 minutes, heat a medium ovenproof skillet over medium-high heat until hot. Coat steaks on both sides with remaining 2-1/2 teaspoons rub.  Brown steaks on both sides in skillet. Transfer skillet to oven; cook about 15 minutes for medium rare 145°F doneness.
Carve steaks into thin slices.  Serve steak slices on cauliflower steaks.  Drizzle with prepared horseradish sauce.
Nutrition
| Serv Size | Calories | Total Fat | Cholesterol | Total Carbs | Protein |
| --- | --- | --- | --- | --- | --- |
| 4 | 298kcal | 16g | 87mg | 10g | 29g |
* The % Daily Value tells you how much of a nutrient in a serving of food contributes to a daily diet. 2,000 calories a day is used for general nutrition advice. 4g Saturated Fat; 8g Monounsaturated Fat; Carbohydrates; 3.2g Fiber; 5.3mg Niacin; 0.7mg Vitamin B6; 3.9mcg Vitamin B12; 3.7mg Iron; 23.9mcg Selenium; Zinc; 70.2mg Choline;
Courtesy of BeefItsWhatsForDinner.com