See All Recipes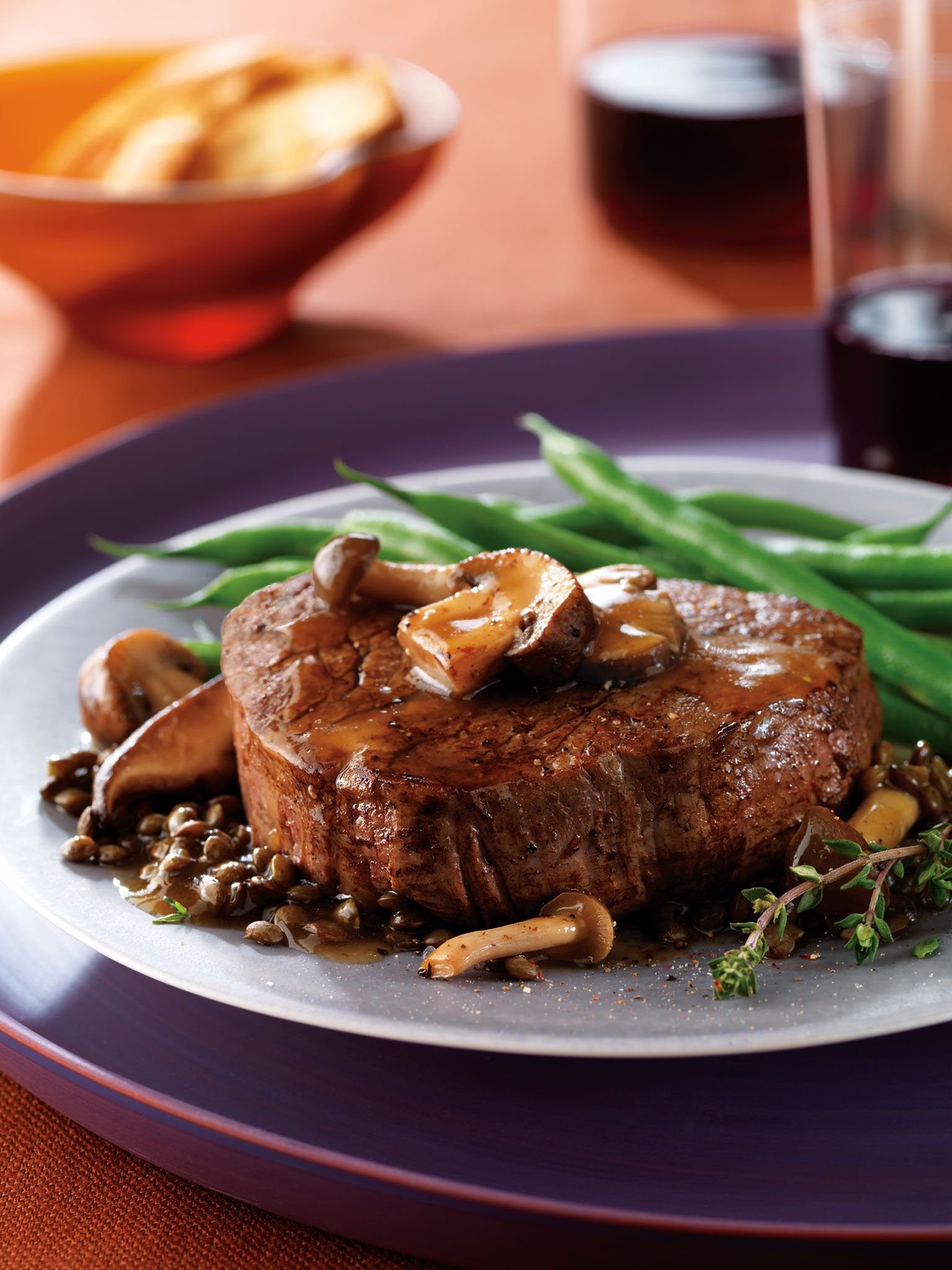 Time: 60 Minutes
Beef Tenderloin with Savory Saucy Mushrooms and Lentils
Make these beef Tenderloin Steaks your go to meal for an elevated, but simple dish with nutritious and flavorful lentils and a rich mushroom sauce.
Ingredients
4 beef tenderloin steaks, cut 1 inch thick (about 6 ounces each)
1/2 cup uncooked lentils
1/2 cup water
2 cups ready-to-serve beef broth, divided
1 teaspoon fresh thyme, chopped or 1/2 teaspoon dried thyme leaves, crushed
Salt and pepper
2 teaspoons olive oil
1-1/2 cups assorted mushrooms (shiitake, enoki, straw, cremini, button or chanterelle), whole or cut in half if large
1/4 cup minced shallots
1 tablespoon cornstarch
1 tablespoon Worcestershire sauce
Quick Facts
60 Minutes
4 Servings
394kcal Calories
46g Protein
Cooking
Combine lentils, water and 1/2 cup broth in medium saucepan; bring to a boil. Reduce heat to low; cover and simmer 30 to 45 minutes or until lentils are tender but not mushy. Stir in thyme; season with salt and pepper, as desired. Keep warm.
Meanwhile heat large nonstick skillet over medium heat until hot. Place steaks in skillet; cook 10 to 13 minutes for medium rare (145°F) to medium (160°F) doneness, turning occasionally. Remove to platter; season with salt and pepper, as desired. Keep warm.
Heat oil in same skillet over medium heat until hot. Add mushrooms and shallots; cook and stir 3 to 5 minutes or until mushrooms are tender and browned. Add remaining 1-1/2 cups broth to skillet, stirring until browned bits attached to bottom of pan are dissolved; bring to a boil. Combine cornstarch and Worcestershire sauce in small bowl; stir into mushroom mixture. Cook 2 minutes or until sauce thickens, stirring occasionally. Season with salt and pepper, as desired.
Divide lentils among 4 serving plates. Top with steaks and mushroom sauce.
Nutrition
| Serv Size | Calories | Total Fat | Cholesterol | Total Carbs | Protein |
| --- | --- | --- | --- | --- | --- |
| 4 | 394kcal | 13g | 101mg | 21g | 46g |
* The % Daily Value tells you how much of a nutrient in a serving of food contributes to a daily diet. 2,000 calories a day is used for general nutrition advice. 4g Saturated Fat; 6g Monounsaturated Fat; Carbohydrates; 3.6g Fiber; 11.6mg Niacin; 0.9mg Vitamin B6; 2.1mcg Vitamin B12; 5mg Iron; 45.6mcg Selenium; Zinc; Choline;
Courtesy of BeefItsWhatsForDinner.com