Asian Steak & Avocado Appetizer
There are lots of reasons to love this Asian-inspired dish. Tender and juicy Strip Filets, fresh cilantro and creamy avocado are just a few.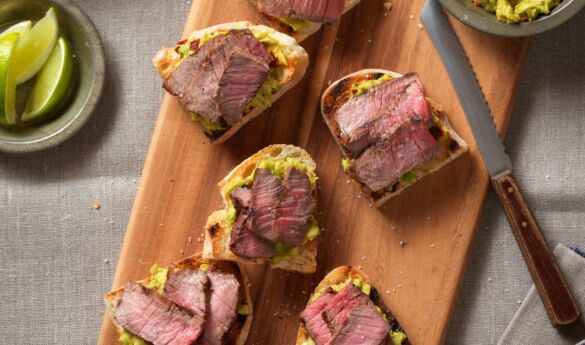 Ingredients
4 beef Strip Filets, cut 3/4 inch thick (about 1 pound)
1/4 cup fresh lime juice or juice from 2 small limes
2 tablespoons chopped fresh cilantro
2 tablespoons mirin (rice wine)
1 tablespoon reduced-sodium soy sauce
1/2 teaspoon sesame oil
2 1/2 cups small avocado chunks (about 2 large avocados)
1/2 cup halved cherry tomatoes
Baked wonton wrappers or tortilla chips
25 Minutes
8 Servings
189kcal Calories
13g Protein
Cooking
Heat large nonstick skillet over medium heat until hot. Place steaks in skillet; cook 12 to 15 minutes for medium rare (145°F) to medium (160°F), turning occasionally. Remove steaks. Let stand 5 minutes.
Cut steaks lengthwise in half, then crosswise into thin slices.
Whisk together lime juice, cilantro, mirin, soy sauce and sesame oil in medium bowl. Add avocado chunks and tomato haves to vinaigrette, mixing lightly. Spoon avocado mixture onto serving plate. Top with beef. Pour any remaining vinaigrette over beef. Serve on baked wonton wrappers or tortilla chips.
Nutrition
| Serv Size | Calories | Total Fat | Cholesterol | Total Carbs | Protein |
| --- | --- | --- | --- | --- | --- |
| 8 | 189kcal | 13g | 37mg | 6g | 13g |
* The % Daily Value tells you how much of a nutrient in a serving of food contributes to a daily diet. 2,000 calories a day is used for general nutrition advice. 3g Saturated Fat; 7g Monounsaturated Fat; Carbohydrates; 3.3g Fiber; 2.6mg Niacin; 0.3mg Vitamin B6; 1.7mcg Vitamin B12; 1.7mg Iron; 14.7mcg Selenium; Zinc; 70.7mg Choline;
Courtesy of BeefItsWhatsForDinner.com